~ BRONZE PACKAGE ~ $169
Special Price (normally $199 - save $30!)
INCLUSIONS
ANY HOUSE
INSIDE & OUT PERIMETER SPRAY
EAVES SPRAY
12 MONTH WARRANTY
(Cockies, Spiders, Silverfish)
6 MONTH WARRANTY (Ants)
AROUND 25 LITRES (Yes, 25 LITRES!) CHEMICAL USED
Just $169 – – >
~ SILVER PACKAGE ~ $199
Special Price (normally $219 - save $20!)
INCLUSIONS
BRONZE PACKAGE INCLUSIONS +
PATHS + POOL AREA SPRAY
VERANDAH/PATIO SPRAY
DRIVEWAY SPRAY
LETTERBOX + BINS SPRAY
COCKROACH GEL IN ALL KITCHEN CUPBOARDS
AROUND 35 LITRES (Yes, 35 LITRES!) CHEMICAL USED
– – > ..these extras for just $30 !
~ GOLD PACKAGE ~ $219
Special Price (normally $239 - save $20!)
INCLUSIONS
SILVER PACKAGE INCLUSIONS +
SUBFLOOR SPRAY + CUBBY HOUSE SPRAY
SHEDS & EXTERNAL GARAGES SPRAY
FENCE-LINE SPRAY + ROOF DUSTED
12 MONTH WARRANTY
(Cockies, Spiders, Silverfish
AND Ants!
)
AROUND 45 LITRES (Yes, 45 LITRES!) CHEMICAL USED
– – > ..these extras for just $20 !

"…outstanding"

"…thorough"

"…friendly"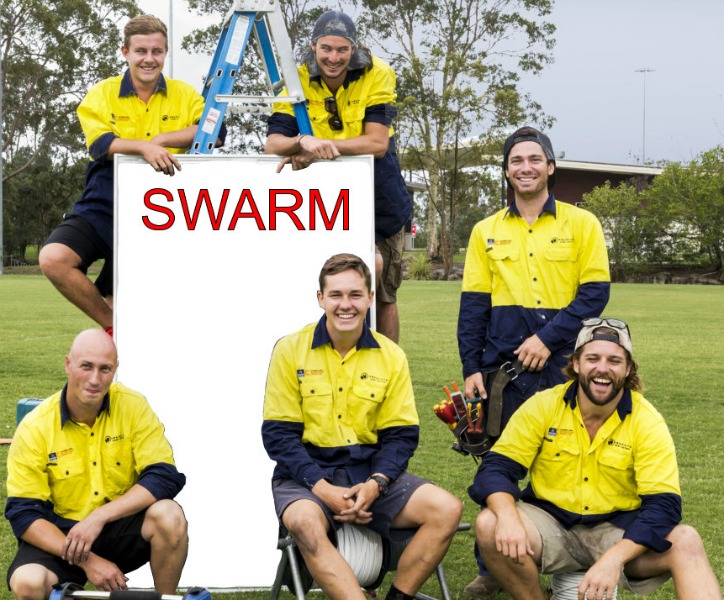 PEST CONTROL FAIRFIELD
Swarm Pest Control is a Family Business that prides itself on genuine old-fashioned personal service.
Cathleen is the owner of Swarm and is a qualified Pest Control Technician with a hands-on approach to her business. There is a good chance that Cathleen will be the Technician to personally attend to your Cockroach, Ant, Spider or Rodent Control problem.
If it is true that your business life is an extension of your personal life, Cathleen would be the prime example of that. The Energy, Enthusiasm and Integrity by which Swarm Pest Control is run is quite simply the reason for it's success.
The most common feedback we receive about our service is:
"…your technician was so friendly"
"…you guys are more thorough than the previous Pest Company we used"
"…you took the time to explain every part of the process"
The recognition we get is an endorsement of the hard work we put into delivering a Professional, Friendly and Cost Effective pest control Fairfield service to our many clients.
We would like to thank our existing clients for our ongoing success and invite new clients to become a part of it.
*So, if you would like to experience 1st class service then please make contact with us Now !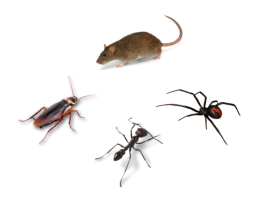 The most common Cockroaches you will find in

Fairfield and surrounding suburbs

is the German Cockroach, the Australian Cockroach, the American Cockroach and the Smoky Brown Cockroach. The German Cockroach is a very small Cockroach found living mostly in the kitchen. The American and Australian are the large Cockroaches that often live outside in Sheds, Garages and inside the garden. The Smoky Brown Cockroach is larger than the German, but not quite as large as the American or Australian.
The small Black House Ant and the Coastal Brown Ant are the more common types you will find in Fairfield and surrounding suburbs. The Black House Ant is a sugar-eating ant that is often found within the kitchen and outside, feeding off the sweet sap from plants and trees. The Coastal Brown is a fat-eating larger brown ant that is found mostly on outdoor paving, around the barbecue area.
The two most prolific rats found in the home in Fairfield and surrounding suburbs is the Roof Rat, and the Norwegian Rat. The Roof Rat is a dark, smaller rat that is an exceptional climber. They can be further identified by their longer tail, larger bulging eyes, pointy nose and unusually larger ears. The Norwegian Rat however has a larger body with a shorter tail, smaller ears and eyes with a shorter blunt nose.
Spiders are generally divided into two categories, Webbing Spiders and Ground Dwelling Spiders. Webbing spiders are more of a nuisance with their unsightly webs. The Redback spider is a venomous spider that forms a messy web, often at low level underneath outdoor benches, table and chairs. The Huntsman is the non-venomous scary looking ground-dwelling spider that lives inside sheds, garages and within the garden. Our service area includes Caboolture in the north, out west to Ipswich, spanning to Beenleigh in the south and across to the Redlands area in the east. Our technicians will service the entire region in-between.
So, what exactly is a Termite inspection?
Another common name for a Termite is a White Ant. They look similar to the small black ants often found in and around the home with one major difference. Unlike the small bla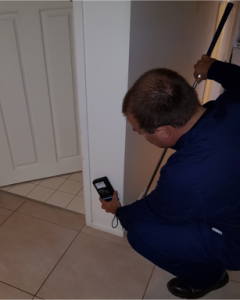 ck ant, White ants, or Termites are an economic and destructive pest.
The Termite has large mandibles, razor like teeth with a never-ending appetite for timber. They never sleep, working 24 hours per day chewing through timber that happens to be in their path.
Most homes in Fairfield are comprised of a large percentage of timber in their construction, timber frames within the internal walls, timber roofing beams and sometimes timber floors. All this timber makes the average Queensland home a very attractive food source for Termites.
Termites, or White Ants are cryptic by nature. They do everything in their power to function undetected by humans and other predators. This is bad, really bad for the homeowner.
Termites generally create tunnels around 200mm below the surface of the soil, in search of moisture and in search of food, timber. They often enter the home inside the wall cavity and start chewing their way through the timber frame behind the internal walls.
For your peace-of-mind and the relatively low cost of having a Termite Inspection done by Swarm, we sincerely think it is money well spent if you consider the alternative. Termite damage can run into many Thousands of Dollars. We would encourage you to not gamble with your number one investment.
As part of our service offering, we undertake Pest Pre-Purchase inspections should you be ready to make an offer on your new potential home. We would be more than happy to arrange for a Building Inspection to be done at the same time that we do the Pest inspection.
Upon completion, you will receive a highly detailed report of the condition of the property that you are about to purchase.
We would encourage you to not make a huge decision to purchase a home without engaging the services of a professional company for your Building & Pest Inspection.
We would look forward to receiving your call.
What to do if you have found what you think is Termite damage?
Don't panic. In fact, don't do anything before calling an expert to discuss what you have found. The last thing you want to do is scare them away before you have had an expert come out to assess the situation.
Termites are cryptic by nature, meaning they will retreat from the area that you have disturbed. We want the termites to remain exactly where they are as this gives us the best possible chance to eliminate their colony.
We will use a combination of methods to kill the termites, and destroy their colony. We may use a poisonous dust or liquid chemical if found outside. The dust and chemical Swarm use is slow acting, which means that it will give the termites enough time to take the poison back to their nests and over time, eliminate the entire colony of termites.
If you think you have found termites, also known as White Ants then please call us immediately. We do not charge anything to give you advice and will, free of charge visit your home to assess the situation!
It has been suggested that 1 in 3 homes in Queensland have, or have had termites in them.
There are a few ways to minimise the chance of termites entering your home. Swarm use a few methods, one of which is the application of a specialised chemical into the soil surrounding your home. This is known as a Treatment Zone, which poisons the termites should they be brave enough to tunnel their way through it. Unless disturbed, the lifespan of a treated zone is around 6 to 8 years.
A strong recommendation from Swarm, would be to have us install a reticulation system of flexible hose into the trenched soil. The flexible hose has a number of tiny holes throughout the length, allowing us to fill it up with chemical in the future, thereby removing the need to have to dig another trench in future.
Another, less intrusive method of controlling termites is to place purpose-built bait stations at defined intervals around the home. Many of our clients choose this method as it is less intrusive than us having to trench and treat, or drill and inject chemical into the soil.
Our bait station solution includes a free bait inspection within 3 months to tweak the placement of them and to check for any termite activity within them.
Furthermore, you will receive advice about how to make your home less inviting to termites.
Please remember, we are just a phone call away. It would be our pleasure to give you continued advice into the future.
We are a Family Business
Our Treatment is Highly Effective
Our Treatment is Safe for your Kids & Pets
Great Warranty
We are Professional, Friendly & Affordable

excerpt: 'We got Swarm Pest Control to do spray inside and outside our house and around our yard. After using a few pest control companies over the years, I can confidently say that Swarm Pest Control gave us the best service and value for money.'
Craig & Cathy are a fantastic team- friendly, knowledgeable & efficient- couldn't recommend them highly enough. Am glad I found them through google and their other fantastic reviews.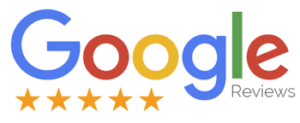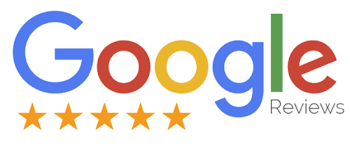 Swarm Pest Control Brisbane
SERVICING:
North & South Side
1800 479 276
[email protected]
Pest Management Licence 1: PMT1006204716
Pest Management Licence 2: PMT1006204316
QBCC Licence: 15069734 (Swarm Termite & Pest p/l)